Salesforce.com had a big week, but the stock could have more room to run

| | |
| --- | --- |
| | SAT, AUG 29, 2020 |
Using Kensho technology, CNBC will surface research and analytic insights designed to create actionable, historical content around market moving events.
ABOVE THE CLOUDS
Salesforce.com just had its best week ever, literally.
After being named one of the newest additions to the Dow Jones Industrial Average, the software giant reported a massive quarter – more than doubling The Street's earnings estimates and topping the revenue forecast by a healthy margin. In response, the stock soared 26% – adding over $51b in market cap in a single trading session. Not surprisingly, it turned out to be the stock's best day ever.
And according to history, the stock may still have room to run.
Since 2010, shares of Salesforce.com have spiked double-digits in a single day on 8 other occasions. Three months later, the rally tends to continue, with the stock adding another 10%, trading positively 88% of the time. Tech also performs well – the SPDR Technology ETF (XLK) gains an average of 4.69% in these periods, a positive trade 75% of the time.
MIND THE GAP
Gap Inc. had two major catalysts this week.
First, Citi upgraded the stock to buy from neutral – saying shares can run 50% from current levels. The analyst argued Athleta is being undervalued by the street – in response the stock vaulted over 10%. Then on Thursday, the retailer got a boost after it reported a much better-than-expected second quarter. But based on past performance, the stock may hang around these levels for a bit.
Between 2010 and 2019, shares of Gap have jumped by at least 10% in a day just 4 other times. Following those moves, the stock tends to go basically sideways three months later – slipping 1.5%, trading positively half the time. The SPDR S&P Retail ETF (XRT) trades consistently positive in those periods, higher 75% of the time, with an average gain of 1.2%. The S&P has traded positively in all 4 instances, with an average return of 2.8%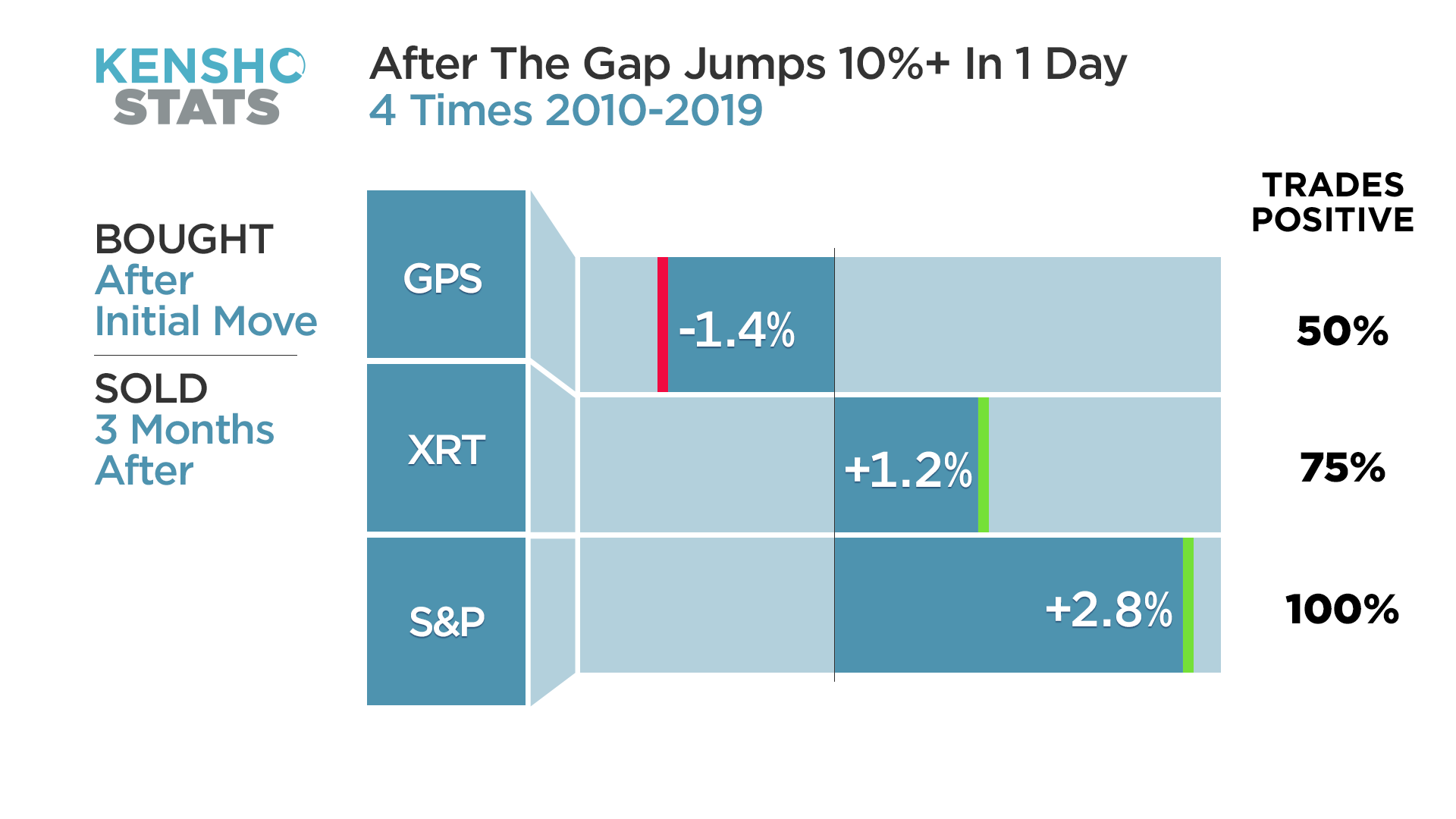 MORE FROM CNBC
Subscribe to CNBC PRO for exclusive content with actionable insights you need for smarter investing